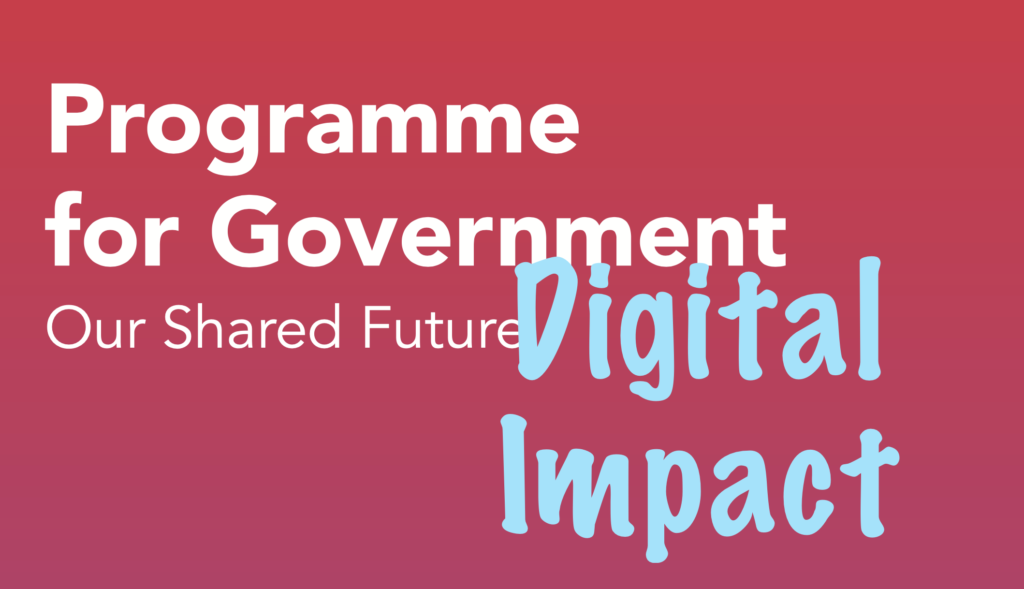 This week the coalition of Fianna Fáil, Fine Gael and the Green Party published their Programme for Government document. This post is a first-look at some of the key areas in the document relating to tech and digital.
Contents:
The National Digital Strategy
Energy
Sláintecare
Broadband
Online Safety
Cybersecurity
Apprenticeships
Electoral Reform
Media
Advertising
Remote Working / Regional Development
The Irish Tech Sector
1. National Digital Strategy
On Page 29, the PFG sets out the National Digital Strategy:
We will develop a new National Digital Strategy, which will:
Utilise the increased level of national connectivity that is being delivered by the National Broadband Plan, particularly in rural Ireland.
Drive digital transformation in the public service, with greater integration of digital services.
Further develop Ireland's leadership in new digital technologies, including cloud computing, data analytics, blockchain, Internet of Things and Artificial Intelligence.
Direct the Office of Government Procurement (OGP) to support the adoption of new technologies through the development of new public service frameworks.
Explore how Ireland can be at the forefront of protecting citizens' rights with respect to facial recognition technology, access to encryption tools, and net neutrality.
We will commence a public consultation on the National Digital Strategy, with a view to completing and publishing the strategy within six months.
I'm not too sure how to assess any of that, not a huge amount of concrete items to latch onto. The "increased level of national connectivity" won't go un-utilised, so I guess that's a relief? 🤷‍♂️
Our last National Digital Strategy was published in 2013 and was focused on getting individuals and businesses online, so probably no harm to refresh it. The goals included:
To get 10,000 Irish businesses online for the first time
To halve the number of "non-liners" (people who have not yet engaged with the internet) by 2016
Completion of the rollout of 100mbs to all post primary schools
The Dept of Taoiseach published a public consultation on a new National Digital Strategy back in October 2018. "Following the conclusion of the consultation phase, all submissions will be published online and Government will draft and publish a Strategy that reflects them." I can't find where any of that happened, but the website of the National Digital Strategy team says the consultation feedback is still "under review".
2. Energy
There are some good, time-bound targets around smart-grid type activity in the Green New Deal section (p. 36), including:
Prioritise the development of microgeneration, letting people sell excess power back to the grid by June 2021.
Ensure that the energy efficiency potential of smart meters starts to be deployed in 2021 and that all mechanical electricity meters are replaced by 2024
3. Sláintecare
e-Health is a major part of the agreed Sláintecare plan, so it has a decent mention on page 45. It repeats support for several plans that are already underway – the "eHealth Strategy for Ireland", the Individual Health Identifier programme and implementing the Electronic Health Record system in the new National Children's Hospital, then nationally.
The only new piece is "exploring the potential for introducing a 24-hour triage and health-concerns telephone and website service"
4. Broadband
There's a broadband section on page 72 but it just says things like "Seek to accelerate the roll-out of the National Broadband Plan" and supporting other things that are already ongoing. The only new thing is potentially "greater powers of enforcement" for ComReg.
5. Online Safety
The Domestic and Sexual Violence section (p. 87) commits to "Enact the Harassment & Harmful Communications Bill (as amended), in order to outlaw image-based sexual abuse and to prevent the abusive sharing of intimate images online."
The Online Safety section also has commits to establishing the Online Safety Commissioner, which is an interesting office:
We will enact the Online Safety and Media Regulation Bill and establish an Online Safety Commissioner. The Online Safety Commissioner will:
Require online platforms to set out the steps they will take to keep their users safe online and to build safety into the design of their platforms.
Ensure that new Online Safety Codes can combat cyber bullying material and material promoting eating disorders, self-harm, and suicide.
Provide a mechanism for further categories of harmful content to be added following consultation with the Oireachtas.
Require that services operate effective complaints procedures.
Ensure that advertising, sponsorship, and product placement are not harmful and that they uphold minimum standards.
Require platforms to have takedown measures that are timely and effective.
Promote positive digital citizenship among children and young people, in conjunction with Webwise and other educational partners, schools, and the Ombudsman for Children.
Develop a research programme led by internationally recognised experts to review the existing and developing literature in relation to (a) the consequences, benefits and potential harms to society and children specifically of digital activity and (b) the concept of duty of care and the public interest in the design of online platforms.
The Broadcasting Authority of Ireland (BAI) will be replaced with a new Media and Online Safety Commission, when the legislation is enacted.
We will support digital literacy schemes across the country and will continue to support the Digital Skills for Citizens Scheme.
This could be one of the more interesting developments to follow over the lifetime of this Government, especially with the Digital Services Act coming down the line, the Irish Online Safety Commissioner could become a pivotal role just like the Irish Data Protection Commissioner has become since GDPR.
6. Cybersecurity
"We will take the necessary actions to protect Ireland against hacking, cybercrime, crypto-jacking, hacktivism, and cyber espionage.
We will:
Build the capacity of the National Centre for Cyber Security (NCCS) to protect the public and private sectors against cybercrime on foot of the capacity review currently underway.
Expand the NCCS's ability to monitor and respond to cyber security incidents and developing threats.
Implement the National Cyber Security Strategy, recognising the potential and important role of the Defence Forces.
Increase digital literacy among citizens and businesses to better enable the identification of threats online.
Develop cyber security capacity in Ireland to better protect citizens, companies, and institutions"
I left the introductory line in here just because I like that "crypto-jacking" is a phrase that made it into the Programme for Government.
7. Apprenticeships
Unfortunately the apprenticeships section (p. 99) doesn't reference anything on digital apprenticeships. As software becomes an integral part of every industry there will be an increasing number of job opportunities that shouldn't need someone to do a 4 year computer science degree to write or fix a bit of code.
8. Electoral Reform
The electoral reform section commits to establishing an Electoral Commission by the end of 2021, which has been a long time coming. It will be given the powers "to regulate online political advertising in the public interest and introduce a consistent regime relating to political advertising across all media."
It also promises to improve voter registration:
"Complete the modernisation process for voter registration, involving:
The simplification of forms and the registration process, including an online option.
A rolling (continuously updated) Electoral Register.
A single, national Electoral Register Database.
A move to a system of identity verification, using one's PPSN."
I would be very excited if this actually comes to pass.
Also, not strictly Digital, but I'm also excited about the plast to examing "replacing by-elections with an alternate list system [….], the use of postal voting, with a view to expanding its provision [and] a fund to support political and electoral research by academics and researchers."
9. Media
Although the specifics are vague, I like the way this section (p. 122) talks about the future of media in Ireland in general. For legacy reasons, we have considered our media in separate silos based on their distribution – "Broadcasts" covers radio and TV, print is separate, online is too. This document first talks about "Bring[ing] together all policy functions relating to broadcast media, print media and online media into a single media division within a government department."
It also commits to "expand the remit of the Public Service Broadcasting Commission to become a Future of Media Commission and to consider the future of print, broadcast, and online media in a platform agnostic fashion." which I think makes a lot of sense.
Other than that it's quite light on specifics, but do I hope whoever drafted it ends up working in the relevant ministry.
10. Advertising
The document plans a move away from self-regulation towards giving the CCPC "a more active enforcement role." This is a recurring theme in the document, giving more teeth to regulators, like ComReg, The Central Bank and CCPC.
11. Remote Working / Regional Development
The National Economic Plan (p. 20) will be guided by principles, including "Innovation in our workplaces through digitalisation, remote and flexible work practices." and commits to "Publish a Regional Technology and Clustering Programme to strengthen the links between SMEs, Educational Training Boards, multinational corporations and third-level educational institutions and help drive competitiveness, productivity, and innovation in the regions."
The "Green New Deal" section (p. 33) also features remote working as the 4th key policy change "Developing a strategy for remote working and remote service delivery, taking advantage of the opportunity for a rapid roll-out of the National Broadband Plan."
The "Balanced Regional Development" section (p. 61) commits to "Develop a national remote working policy to facilitate employees in working from home, or from co-working spaces in rural areas, and to support the retention of skilled young people in rural communities.", to "Examine the feasibility and merits of changing tax arrangements to encourage more people to work remotely." and, strikingly, "Mandate public sector employers, colleges, and other public bodies to move to 20% home and remote working in 2021."
This sentence is repeated again on page 121, but with this bit extra at the end – "and provide incentives for private- sector employers to do likewise."
12. The Irish Tech Sector
Page 19 commits to "Enact legislation for the introduction of a new €2 billion Credit Guarantee Scheme, SURE scheme, and the warehousing of tax liabilities." and "Scale up MicroFinance Ireland so that it can support greater numbers of small businesses and start-ups in accessing finance. Review how we can utilise and leverage European Investment Bank funding and other opportunities for external funding to the maximum extent possible, to support our recovery and transition to a low-carbon future."
The National Economic Plan (p. 20) commits to "Scale up Enterprise Ireland support for smaller companies to invest in technology for clean processes, waste, and energy efficiency."