I send this update in a newsletter every Friday morning. Subscribe for free here.
In this week's issue: Gig economy workers, Yelp data predicts covid hotspots, fake guardian headlines, what Europe can teach silicon valley, the UK's grading algorithm, the human cost of conspiracy theories and most of Scots wikipedia is made up. 
📰 Ideas
How do we classify workers in the gig economy? When I lived in San Francisco one of my housemates used to do "Task Rabbit" jobs the odd evening or weekend for a few extra dollars. He'd usually get a job to assemble some furniture, or move a couch or lift something heavy (he's a tall guy!). He wasn't a full time employee, he didn't have to commit to a certain number of hours. He'd just mark himself available on the app when he wanted some extra spending money. It was the perfect arrangement for him.
But for many others it wasn't so simple. Taxi drivers who were now Uber or Lyft drivers didn't always have that luxury, many did it as a full time job, not just a nixer. And many of the platforms demanded more in return for them. Postmates and Instacart made their shoppers commit to being available for multi-hour shifts, rather than having the freedom to accept jobs as and when they want them. This starts to look less and less like "gigs" and more and more like regular old jobs.
So how do we regulate jobs like these? How do you balance the protections and rights we want to guarantee all workers, without killing the opportunities for "gigs" that many find a useful supplement to their income, or a flexible way to work around other commitments?
California is place currently trying to find this balance…. but not very well. Legislation was due to come into force today that would force all Uber and Lyft drivers to be re-classified as employees, but a court has granted an emergency stay this week. In a case of both sides being wrong, the California legislation seems very poorly drafted and overly broad, but equally incredulous is Uber and Lyft's claims that their drivers are completely independent contractors.
In London, even though taxi-drivers are generally self-employed, the Employment Tribunal found that Uber drivers are not independent contractors. Independent contractors, they reasoned, can negotiate their fee, are free to reject work or set many of their own terms, none of which are options available to Uber drivers. They are therefore more like employees and should get employees rights, like sick pay and minimum wage. Uber are appealing this in the UK Supreme Court at the minute.
Closer to home, our major taxi app Free Now does act more like a simple connector for Taxis, so doesn't come up against these conflicts, but we do have many "gig economy" workers, especially in food delivery like Deliveroo, Just Eat and Uber Eats. All of these companies engage their riders as self-employed contractors, rather than employees.
Earlier this year the High Court issued a finding that Dominos Pizza delivery drivers are effectively employees, not contractors, even if their contract says otherwise. The High Court's reasoning was similar to the London tribunal's. One would imagine they'd apply the same finding to all other gig economy companies, if a case comes before them.
Which would probably mean that services like Deliveroo, Just Eat and Uber Eats won't be able to operate in Ireland (they already loose a ton of money even without this). And maybe that's where we'll end up, that they can't be viable businesses without exploiting vulnerable workers, in which case we'll move on without them. But it's probably worth exploring and writing more explicit regulations for these industries, to try find a middle ground that protects workers, especially those most economically vulnerable, while also giving them and others the benefits offered by more flexible gig work.
The worst case is that we end up where California is this week, with the worst of both worlds.
🔗 Interesting Links
The data team at Yelp have taken all of their usage data and mapped it against Covid-19 outbreaks in the US. Two interesting findings. The first is the specific activities that are linked to outbreaks – "As people began resuming common pre-pandemic activities [….] – specifically, frequenting restaurants, bars and nightlife, and gyms – a clear spike in COVID-19 cases within those locations quickly followed." Second, even in states without mandated lockdown, people naturally curtailed visits to places where social distancing is harder to enforce. Many temporary closures are becoming permanent too. Link.
You've probably seen those fake guardian headlines on Twitter? Some are funny parody, poking fun at the various columnists at the paper, but many are used to stoke outrage at opinions that were never published (see screenshot below). Lots of these are created on a free website, which the Guardian is now suing for copyright infringement. It's an interesting challenge, balancing parody in freedom of speech, vs. malicious disinformation. I would have thought it would have made more sense as a Trademark / misleading consumers approach, rather than copyright, but I'm very much not a lawyer. Link.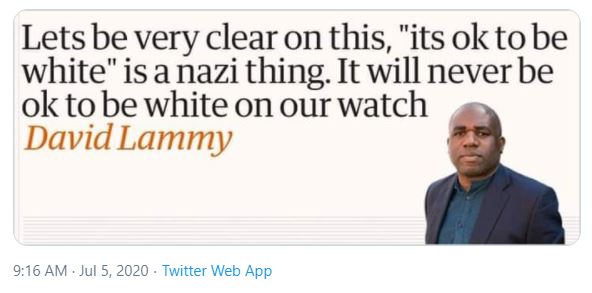 Marietje Schaake, formerly a Dutch MEP, has been joined Stanford University in a role which I saw described as "Europe's ambassador to Silicon Valley". Probably a stretch, but the New Yorker have a great profile on her and the lessons America can learn from Europe about regulating tech. "Silicon Valley is not usually seen as a policy hub, but, of course, it is one. I saw there was more Silicon Valley in Europe than Europe in Silicon Valley and I felt maybe this should change" Link.
China's Baidu (Google equivalent) blanks out parts of its maps, so these intelligent reporters in Buzzfeed used those blanks to find a network of 315 locations that look like active internment camps in XInjiang, presumably for the Uighur muslims. Stellar investigative journalism. Link.
For the stats nerds – How Does Ofqual's Grading Algorigthm Work? – particularly relevant as our own Department of Education will be doing something similar with Leaving Cert results here. Link
This is a sad read on the real human cost of online conspiracy theories. "A Florida taxi driver, who believed false claims that coronavirus was a hoax, has lost his wife to Covid-19" Link.
The Women Making Conspiracy Theories Beautiful. Link.
It turns out most of Scottish Wikipedia (about 20,000 articles) was written by an American teenager who doesn't speak Scots, "but simply tries to write in a Scottish accent". Link.