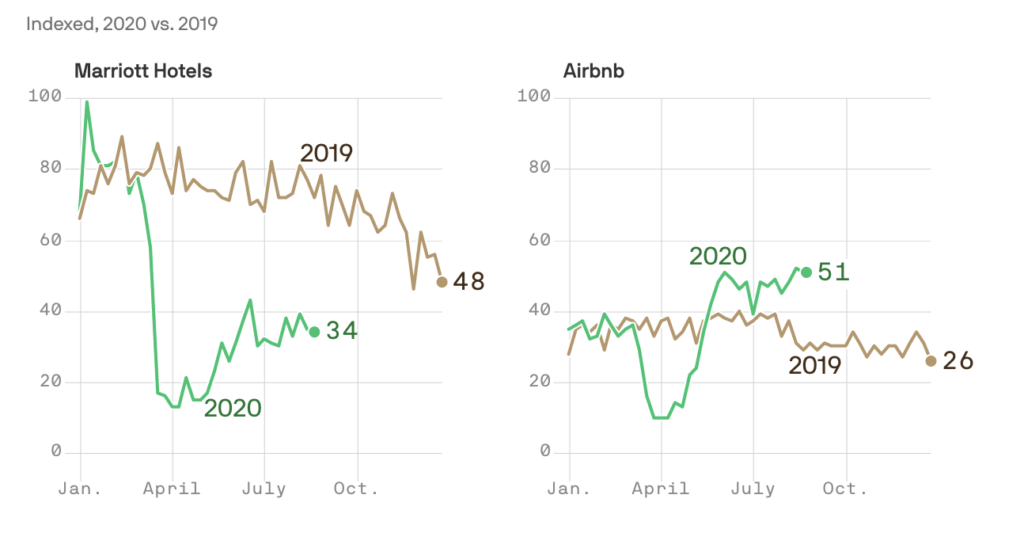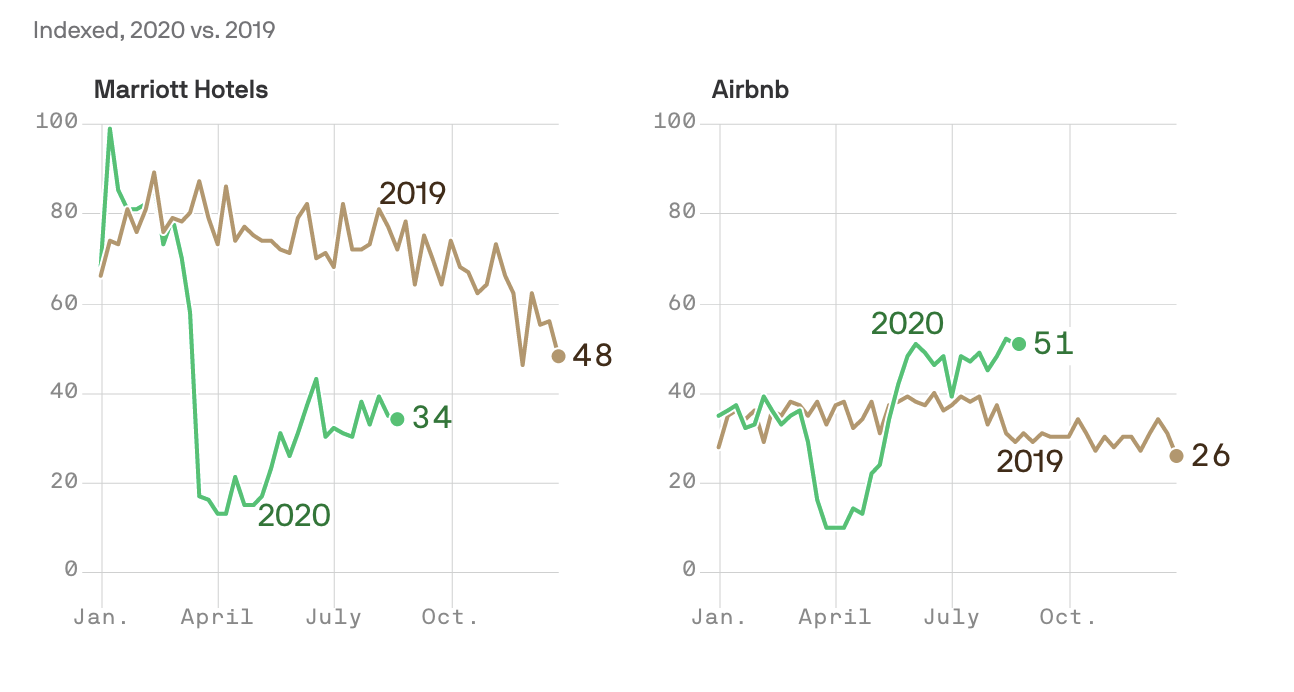 Was 2019 the peak of city-centre office working? Or will 2020 be remembered as a temporary blip when we all go back to the office after Covid?
6 months into the pandemic Google's decision to abandon plans for a new 2,000 person office in Dublin feels like a strong signal that this may a trend that continues after the pandemic ends. This mirrors similar developments in cities all over the world, with the most notable one being Pinterest's decision to cancel their lease and pay an $89.5m fine to do so.
"As we analyze how our workplace will change in a post-COVID world, we are specifically rethinking where future employees could be based," their CFO said. At $89m, it's a serious bet against the future of the city centre office.
If companies like Google and Pinterest are right, that poses two big questions – Where do people chose to live, when they can work anywhere? And what happens to cities if the office workers don't return?
On the first question, for now at least, many office workers are getting out of the city. If you can work anywhere, you might as well work somewhere beautiful.
Anecdotally, I've heard that the co-working spaces in places like Skibbereen and Tralee are fully booked out these days. Airbnb have had such a strong resurgence over the summer that revenues are now 75% higher than they were at this time in 2019. Hotels are still way down.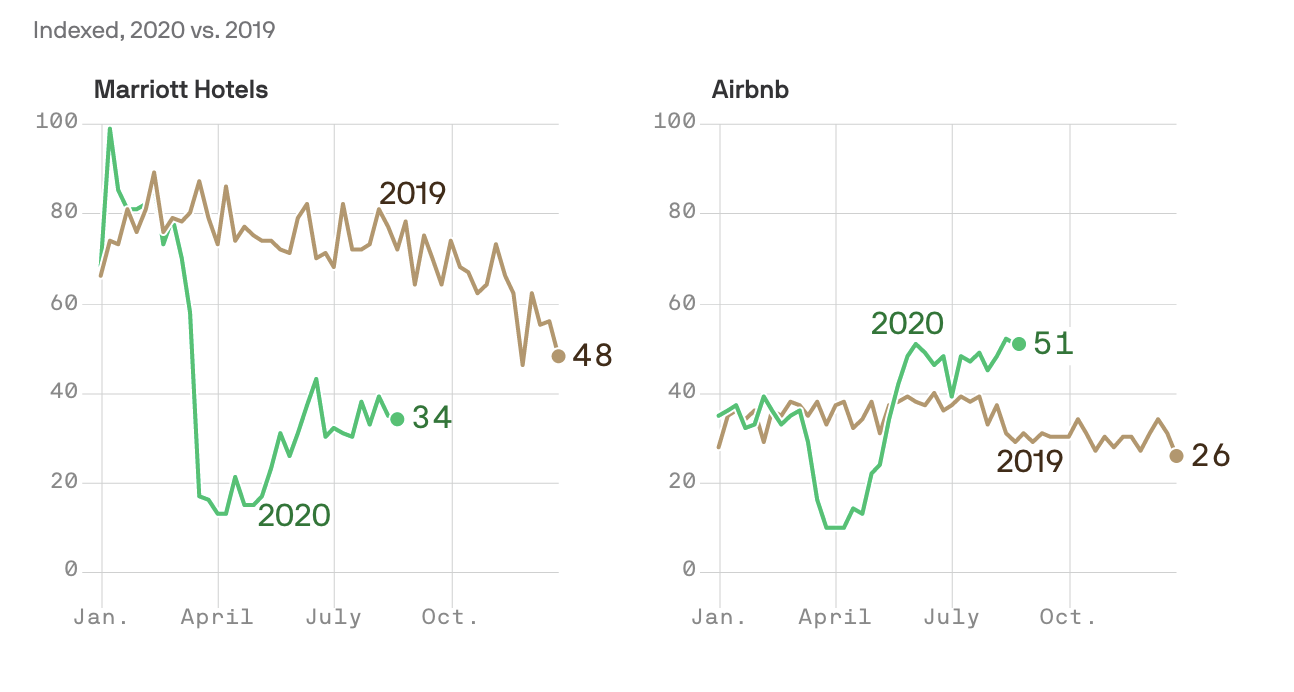 It's hard to know if this trend will hold or if it's just a fun thing to do during an odd year. Cities are still where people do much more than work – where they socialise, meet romantic partners, have a wider variety of entertainment and food, etc.
Which leads to the second question… what do cities look like if office workers don't return? In one of the best pieces I read this week, Paul Kearns writes about Dublin that "A capital that prioritises suburban shoppers, commuters and international tourists is now reaping the rewards of its anti-urban living policies." The pandemic has revealed just how little we've invested in Dublin as a city to live in, rather than just one we commute and travel to. Other cities are worrying about the long term emptiness of their business districts, but we might have to worry about the whole city centre.
There's also the knock on effects. Steve Levine points to the trillion dollar "office economy" that is being killed by remote work. Nobody is queueing in Starbucks. Business travel made up 60% of all airline revenue and (fingers crossed) may not ever be back to those levels (although I'm not sure about this one). I got a sad goodbye email from the barista in our office building last week and I can't imagine the cleaning staff have been too busy over the last few months.
If the trend holds, those who "feed, transport, clothe, entertain, and shelter people when they are not in their own homes" — will risk losing their jobs, according to Elisabeth Reynolds at MIT. Another indicator that the pandemic is affecting those on lowest incomes the hardest.
I'm not sure that we should spring into action with any long-term plans while the ultimate outcome is still so uncertain, but it certainly gives us opportunity to re-imagine what we should want from our cities, and indeed our suburbs and towns too.
National Digital IDs.
The Economist has a pair of interesting articles this week. In the first they look at how the pandemic is spurring the digitisation of Government. Lots of interesting case studies of public services shifting dramatically online – from wedding registrations, unemployment claims and doctor's appointments. We have some stellar examples in Ireland – Revenue Online is mostly excellent (just don't lose your cert), and the Passport application app is a delight.
They also argue, because of this, that Covid-19 strengthens the case for digital ID cards. I'd broadly agree, with all of the caveats they list, including strict legal protections of the data, giving citizens ownership and control of their data and investing heavily in security.
Two of the best practices they recommend – 1) be transparent about it (i.e. call it national id, don't try sneak it in as something else) and 2) don't make it mandatory – are of course the exact opposite of what we did here, claiming the Public Services Card wasn't a national id, then making it mandatory.
Hopefully we learn from the success of initiatives like the Covid Tracker app, which prioritised our data privacy, promoted the benefits of use and invested in building trust, and got very high levels of voluntary adoption as a result.
News
Mobile data is getting cheap. When I worked in Vodafone, I managed the launch of Prepay mobile broadband in 2008. If memory serves, we made a massive price drop from €5 per mb to €0.5 per mb. This week 48 (Three's youth brand) launched 100GB (and free calls and text) for €7.99 per month. That's €0.0000799 per mb! Link.
In news that will make a small number of people very happy, the BlackBerry is back! Coming next year. Link.
The first bit of science on whether or not Contact Tracking apps actually help reduce the spread of Covid has been published by Oxford, which seems to suggest that they have a positive impact at any level of uptake, not just when most people have it installed. Link.
Interesting Links
Abeba Birhane, a cognitive science PhD student at UCD, has published a paper on the "Algorithmic Colonization of Africa". Link.
On a topic close to my heart – the battle for the future of young men online. "'Queer Eye', Jordan Peterson and the battle for depressed men." Link
A good series of Tweets from Stephen McIntyre at Irish VC Frontline, about why the Google office announcement doesn't mean Google are pulling out of Ireland. He makes two interesting points: 1) Engineering and Sales are the important jobs at tech companies, the ones with the biggest salaries and the ones least likely to get automated or outsourced. We have lots of them here. 2) We've always done well at attracting Inside Sales teams here – the ones that make sales over the phone and close deals with an email. We've done less well on the sales teams that do in-person pitches and end deals with a handshake. They go to London. But that's an opportunity for us, now that business travel and hand-shakes no longer exist. Link.
Election interference guns for hire. A US PR firm was running large scale, coordinated inauthentic behaviour online to influence the elections in Venezuela and Bolivia. Link.
"Should Google's Ad Market Be Regulated Like the Stock Market?" Link.
Future crimes. A county sheriff in the US implemented a "futuristic program to stop crime before it happens." Of course, it just lead to innocent people being monitored and harassed. Bad police can just be bad at scale now. Link.